Twenty years into photography, it's rare to find a subject I haven't already photographed in some capacity. Enter Night Snow. Whenever possible, I get outside when it's snowing those big, fat beautiful flakes, but I had never tried it at night.
First, it required me to do something I absolutely hate: take a tripod. I'm about as anti-tripod as anyone can be who still owns one. I find them extremely limiting. I knew with how dark it was that I would need a tripod to shoot at slower shutter speeds if I wanted to have a low(ish) ISO, which increases my image quality.
But, of course, slow shutter speeds mean that the snow streaks across the image, which isn't really the effect I was going for. And if the speeds are slow enough, you can't even tell it's snowing at all.
Comparing Shutter Speeds for Night Snow
Let's compare the three images below. The image top left is at a shutter speed 0.8 seconds. Is it even snowing? I can't tell! The top right image is at 1/8 second. Better! The bottom image is 1/100 second and it has more of the type of night snow look I was going for. However, I had to shoot at ISO 12,800 AND underexpose the image quite a bit to shoot at that shutter speed, which means the quality of the image wasn't great. The color was terrible, but it does look decent in black & white.
The image below is the best compromise between all the factors. It's 1/50 sec. And even though it's ISO 12,800, since I didn't underexpose it as much as the image above, the color didn't turn out too terribly. Oh, and all of these photos are at f/2.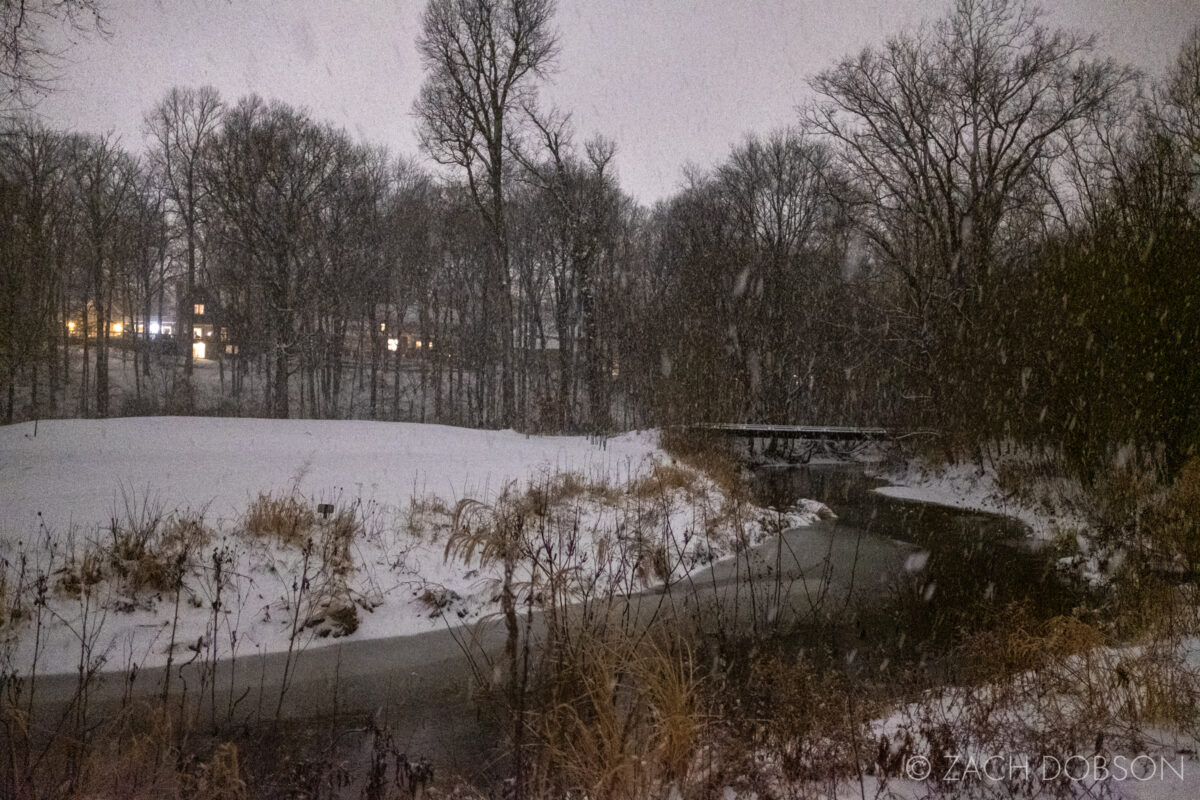 Know Thyself
I can admit that my greatest strength as a photographer isn't thinking of all possible scenarios in advance. One of my greatest strengths is being very quick to adapt to a situation to make it work in my favor.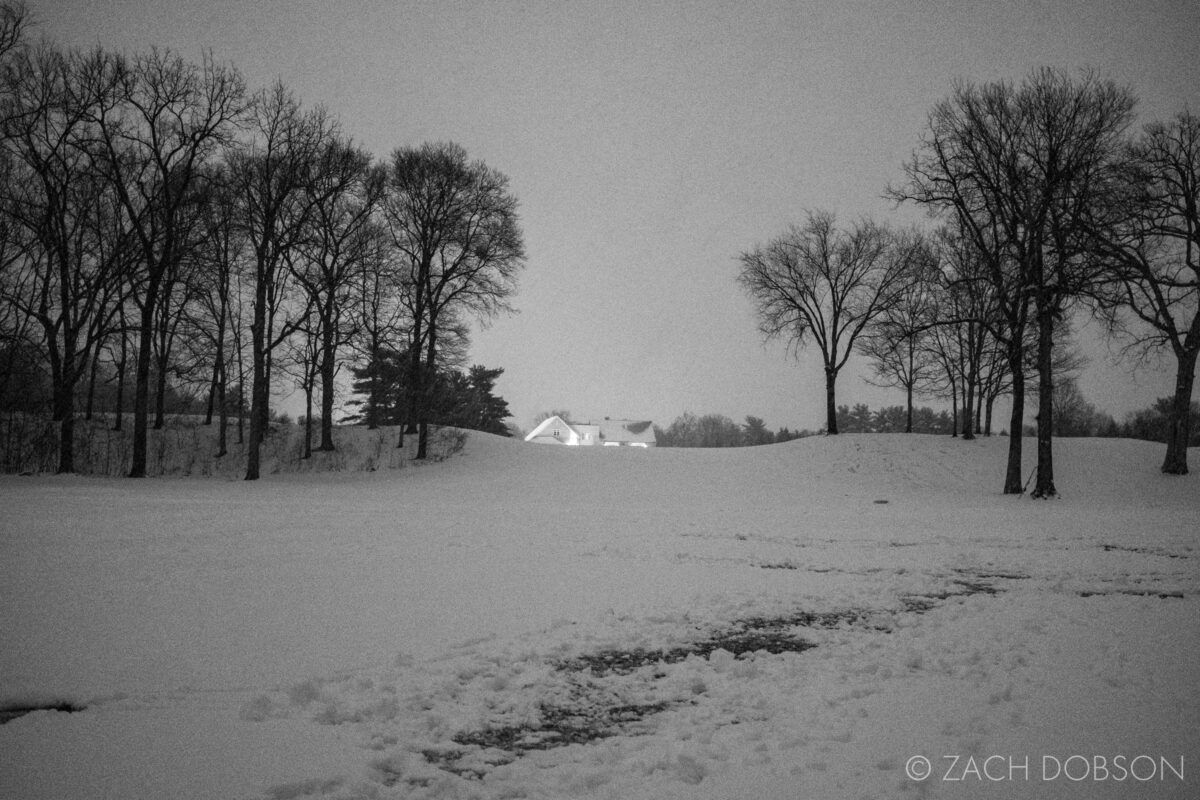 So that means I decided to crank the ISO (3200-12,800) and accept the graininess that comes with that in order to get my shutter speed high enough to (somewhat) freeze the flakes in midair and get the type of night snow photos that I wanted.
I was glad to have the tripod, though. It made a nice walking stick.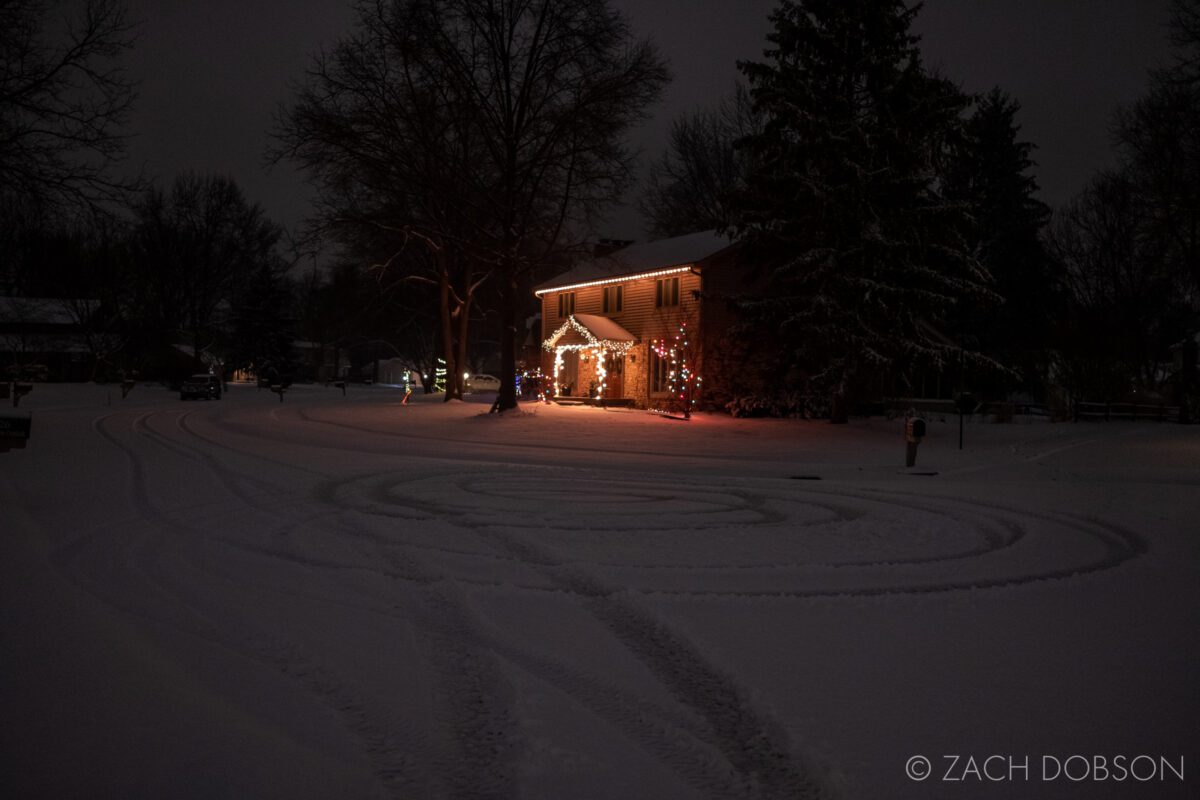 Pro Tip: Stability Technique
Just because I'm morally opposed to tripods, it doesn't mean that I don't do whatever I can to stabilize my camera to get sharp images. For example, for the image below, wedged my lens into the corner of one of those small squares at the top of the fence to add some stability for this night snow shot. I used trees, buildings and all types of furniture to do the same.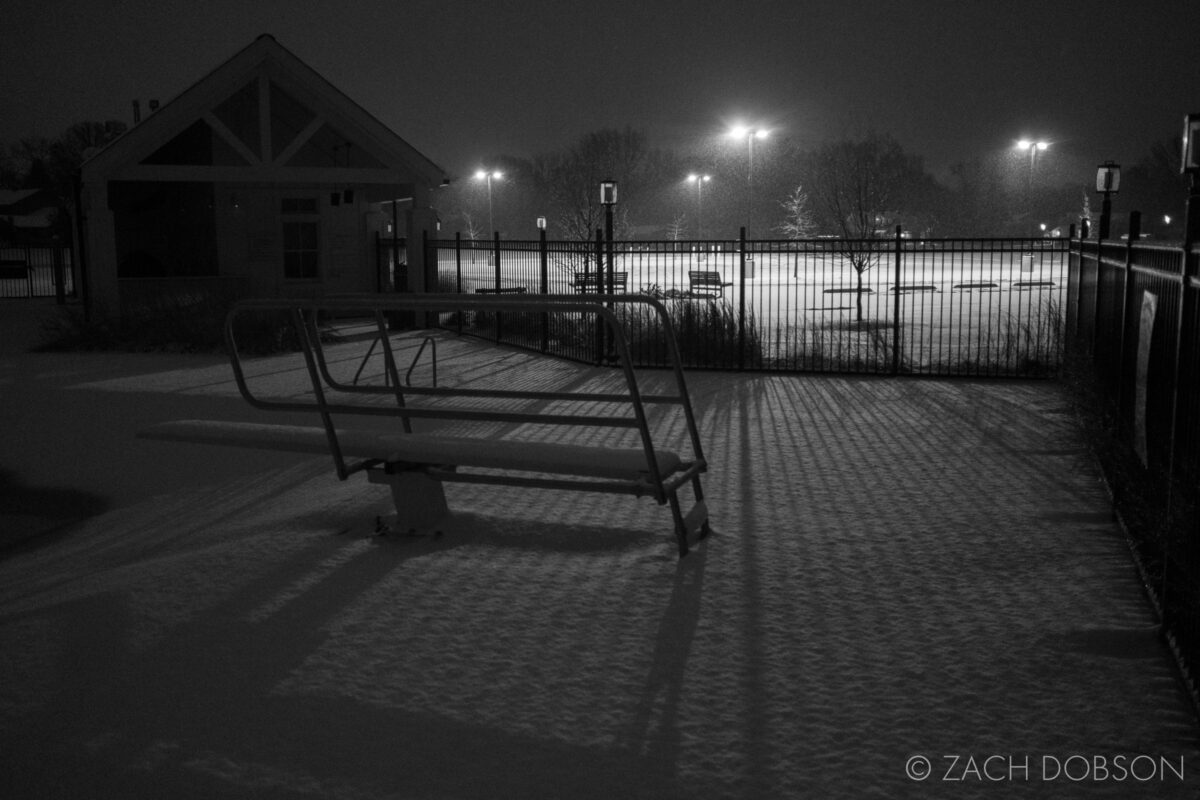 Related Posts
The snow has been plentiful the last couple weeks, so check out these other posts I did in the snow. Also, I have a couple photo tips about shooting in the snow on my YouTube channel.